Brokered Equipment
Call James Savage at 865.617.9122 for information on buying brokered equipment.
FOR SALE
COMPLETE TIEMILL/SAWMILL:
INCLUDING HURDLE 3 HEAD BLOCK PORTABLE MILL-HMC ROSSER HEAD DEBARKER-CHIP PACK-EDGER & ROLLCASE-CAT WHEEL LOADER-PRENTICE KB LOADER-ABOVE GROUND SCALE—-FOR MORE INFO CONTACT JAMES SAVAGE 865-617-9122
$200,000
COMPLETE MINI SCRAGG MILL
FOR MORE INFORMATION PLEASE CALL JAMES SAVAGE 865*617*9122
$100,000
EQUIPMENT:
ITEM #11051
VOLVO L60F ARTICULATING WHEEL LOADER WITH QUICK ATTACH; RIDE CONTROL; HEAT & AIR CAB; 5700 HOURS
$57,500.00
CALL JAMES SAVAGE @ 865-617-9122 FOR MORE INFORMATION
ITEM # 11050
1993 WESTERN STAR; W/12.7 DETROIT ENGINE; W/18 SPEED TRANSMISSION; W/WORKING AC; W/ PRENTICE 120C KNUCKLE BOOM LOADER; W/NEW HYDRAULIC PUMP; W/1996 ROSA PUP TRAILER; W/NEW BRAKES ON REAR AXLE W/57,706 hours
$27,500.00
FOR MORE INFORMATION CALL JAMES SAVAGE @865-617-9122
ITEM 11051
CAT 525C GRAPPLE SKIDDER; W/WINCH; W/30.5 X 32 RUBBER/ W/ENCLOSED CAB; W/HEAT & AIR SN# 52500447
$52,500.00
FOR MORE INFORMATION CALL JAMES SAVAGE @ 865-617-9122
ITEM # 11038
DIAMOND WILSON MODEL WC 14X CUSTOM PORTABLE CORRAL
LIFT PANELS VIA CABLE WINCHES, EVERYTHING ELSE ON HINGES.
SET-UP AND TAKE DOWN IN MINUTES.
UNIT CAPACITY IS 140 HEAD AT 850LBS.
CALL MIKE HIXSON FOR MORE INFORMATION 865-803-9007
$7000.00
ITEM # 11037
Nicholson Debarker Model #A5ALH  SN# 6436
Call James Savage for more info 865-617-9122
ITEM # 11036
Monticello Dipping Vat
6' x 20'
w/Hydraulic Hoist
w/5 HP Hydraulic Power Pack
$20,000.00
CALL JAMES SAVAGE FOR MORE INFORMATION 865.617.9122
G-Tek Resaw
Item # T11005
S/N 8411310051400B001142, 100 HP motor, 16×16 capacity, 5″ band (approx. 20 bands), w/ infeed, positioner and turner, outfeed and stop gate/separator, complete run around, 2 control cabs w/ computer setworks, w/ 3 hydraulic packs, w/ 1 30 HP and 2 25 HP motors and control center, 20 HP suction blower
Contact James Savage 865.617.9122
$75,000

Meadows 2 Saw Vertical Edger w/2 movable saws;
Item #T11000;
Contact James Savage 865.617.9122
$9500.00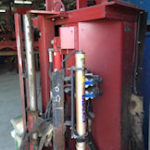 -Jeffrey Hog

; Item #T11001;
Model #40 WB; w/Sub Base ;
w/200 HP Motor;
Contact James Savage 865.617.9122
$16,500.00
-Jeffrey Shreddar Hammer Mill

#T11002;
SN# 14006;
Model #42×36
w/Sub Base,
w/250 HP Motor
w/ 2 sets of hammers;
Contact James Savage 865.617.9122
$20,000.00
–Helle 48″ 3 Head Block Sawmill; Item #T10899; w/Homemade Turners on 2 Head Blocks
w/Pop up Rollers Mounted on Carriage ; w/Hammer Dog; w/60 HP Carriage Drive; w/Track
w/Helle 4′ x 5′ Saw Cab; w/Helle Setworks; w/Log Turner; w/Stop & Loader
w/Log Deck; Hydraulics Included; No Husk or Off Bearing Rollers;
Contact James 865.617.9122
$40,000.00
-Newman S282 Planer; Item #T10872; S/N-14655;
w/Helical Quiet Cut Head; w/40 HP Motor on Top Head;
w/25 HP on Bottom Head; w/15 HP Hyd Power Pack;
w/Infeed & Outfeed Belt Conveyor; w/Motor Control;
w/Starter for Planer; w/Parts & Sharpener;
Contact James Savage 865.617.9122
$42,500.00
ROLLING STOCK: No rolling stock at this time.
 Please Note: All descriptions are conscientiously described by the Seller
and Auction Company, however, neither assumes any liability for errors or omissions.
Equipment is offered "as is – where is" with no expressed or implied warranties.
 No guarantee of merchantability or suitability for intended usage is given or implied.