Allons Mill
FOR SALE PRIVATELY
COMPLETE SAWMILL IN OVERTON COUNTY, TENNESSEE WITH REAL ESTATE.
REDUCED! Asking Price 1.1 Million for all related equipment, buildings and real estate.
The owner has multiple mills in the area and has made the decision to downsize. Each mill is located in an area with ample timber supply. At the time of shut down, these facilities were producing between 45,000 and 50,000 board feet per day. Mills are located on a major highway and convenient to I-40 in middle Tennessee. Call James Savage at 865-617-9122 or 800-334-4395 for information.
Mill #1, Allons, TN 25+/- Acres, with lumber manufacturing facility;
-Brewer Single Arbor Gang Saw; w/Sizer Head; w/50 HP Motor on Arbor; w/30 Hp Motor on Sizer; w/Infeed Rolls
-Hazelthorn Cant Sizer; w/Motor
-36″ Suction Blower; w/40 HP Motor; w/40′ of Pipe; w/Cyclone
-20′ 3 Strand Log Deck; w/Stop & Loader; w/Drive and Controls
– Morbark 636 Debarker; w/100 HP Motor; w/20′ Infeed Log Conveyor; w/20′ Outfeed Log Conveyor; w/Kickers; w/Drives & Controls
-Morbark 30′ Waste Conveyor; w/Chain; w/Drive and Controls
-30′ 2 Strand Log Deck; w/Stop and Loader; w/Drive
-Hurdle Portable Mill w/3 Head Block Carraige; w/Chain Type Log Turner; w/Slab Drop Belt; w/Outfeed Rollcase; w/Hydraulic Drive; w/Enclosed Cab; w/150 HP Motor & Controls
-Miner 6″ 2 Saw Edger w/75 HP Motor& Controls;
w/Hydraulic Set; w/Laser Lights; w/6″ Single Belt Trailer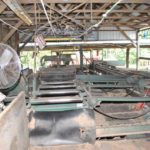 -30′ Waste Conveyor; w/Chain; w/Drive and Controls
-16″ x 30′ Belt Conveyor; w/Drive and Controls
-16″ x 20′ Belt Conveyor; w/Drive and Controls
-12′ 3 Strand Transfer from Edger; w/Drive and Controls
-10′ 6 Strand Deck; w/Rooftop Chain; w/Drive and Controls
-Yates American G77 Straight Line Rip; w/Motor and Controls
-60′ Conveyor; w/Chain and Steel Drags; w/Drive and Controls
-90′ 3 Strand Green Chain Deck; w/#78 Chain; w/Drive and Controls
-30′ 4 Strand Package Deck; w/130 Rooftop Chain; w/Drive and Controls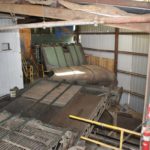 -60′ 3 Strand Cant Deck; w/Drive and Controls
-90′ 6 Strand Lumber Deck; w/Drive and Controls
-18′ 3 Strand Log Deck; w/Stop and Loader; w/Drive and Controls
-45′ 3 Strand Log Deck; w/Stop & Loader; w/Drive & Controls
-Corley Bar Type Log Turner; w/Pump, Tank& Controls
-Tyrone Berry 280 Shotgun Drive
-Corley 3 Head Block Carriage w/Pantograph, Track & Controls;
w/48″ x 54″ Saw Cab
-Salem 6′ Band Head Rig; w/200 HP Motor & Controls
24″ x 80′ Rollcase w/Kickers; w/Slab Dump; w/6′ Pop up Transfer
-Crosby 6″ x 36″ Edger; w/75 HP Motor;
w/Infeed & Outfeed; w/Laser Lights
McDonough 6′ Resaw; w/Line Bar Attachment; w/Hydraulic Power Pack;
w/Sawmill System Setworks; w/200 HP Motor; w/Web Wheel; w/Mechanical Strain;
w/Infeed w/Cant Positioner & Turner; w/Merry Go Round; w/30′ Outfeed Rolls; w/30′ Infeed Rolls;
w/24″ x 30′ Waste Conveyor; w/4′ x 5′ Saw Cab; w/Drive & Control
-24″ x 90′ Slab Belt Conveyor; w/Drive and Controls
-20′ Waste Conveyor; w/Chain; w/Drive and Controls
-20′ Waste Conveyor; w/Chain; w/Drive and Controls
-20′ Slab Belt; w/24� Belt; w/Drive and Controls
-24″ x 20′ Vibrating Conveyor; w/Drive and Controls
-Precision 58″ 6 Knife Chipper; w/200 HP Motors & Controls; w/6 x 6 Chip Screen; w/Cyclone
-11′ 5 Strand Lumber Deck; w/Even End Rolls; w/Drive
-Precision G132 Knife Grinder
-32″ x 30′ Belt Conveyor; w/Drive and Controls
-11′ 5 Strand Pop up Transfer Deck; w/Drive and Controls
-Irvington Moore 20′ Drop Saw Trimmer; Model 66; S/N-8323; w/13′ 5 Strand Incline Lumber Deck; w/Board Dealing System; w/12′ 4 Strand 90 Degree Lumber Transfer; w/12′ 6 Strand Lumber Unscrambler; w/7′ 5 Strand Lumber Collecting Deck; w/Lugged Infeed Chain; w/Even End Rolls; w/12′ Outfeed; w/Even End Rolls; w/Board Dealing System; w/Drives and Controls
-50 Hp Rotary Screw Type Air Compressor; w/Controls; w/Ultra 2 Stage Air Drier
-LSI 16 Bay J Bar Lumber Sorter; w/Computer Controls for Sorter and Grading System; w/Hi-Tech Electronic Thickness Gauge; w/Hydraulic Power Unit and Controls; w/75′ 5 Strand Carry Out Deck; w/Drive
-LSI 4′ Package Maker; w/4′ Lift Table; w/12′ 6 Strand Unscrambler;
w/Drive and Controls; w/11′ 5 Strand Lumber Transfer Deck w/Drive and Controls;
w/17′ 3 Strand Lumber Transfer Deck w/Drive & Controls
-Single Trailer Loading and Leveling System; w/55′ Incline Dust Conveyor w/Chain; w/Drive & Controls; w/40′ Dust Conveyor w/Chain; w/Steel Drags; w/Drive and Controls
-Miller Bob Cat 225 Gas Welder; S/N-KE718443; w/Onan 16 HP Engine; w/Lead and Torch Set
-Miller Heliarc 250 Amp AC/DC Welder; w/Lead and Torch Set
-Devilbliss 10 HP Tank Mounted Air Compressor
-Progress 60″ 6 Knife Chipper; w/Horizontal Feed, Top Discharge; w/Toshiba 250 HP Motor; Not Installed
-Fairbanks 100,000 LB Pit Type Scale; w/Electronic Indicator; w/Platform